Unique Designed Motorcycle Boots make you comfortable on your trip! This motorcycle boot features faux fur lining, cushioned collar and interior zipper closure. Durable anti-slip rubber sole with advanced traction and cushioning.
Midsole Material: Ethylene-Vinyl Acetate
Lining Material: Mesh
Upper Material: Synthetic Leather
Outsole Material: Rubber
Boot Height: Ankle Special
Weight: 740-850 GM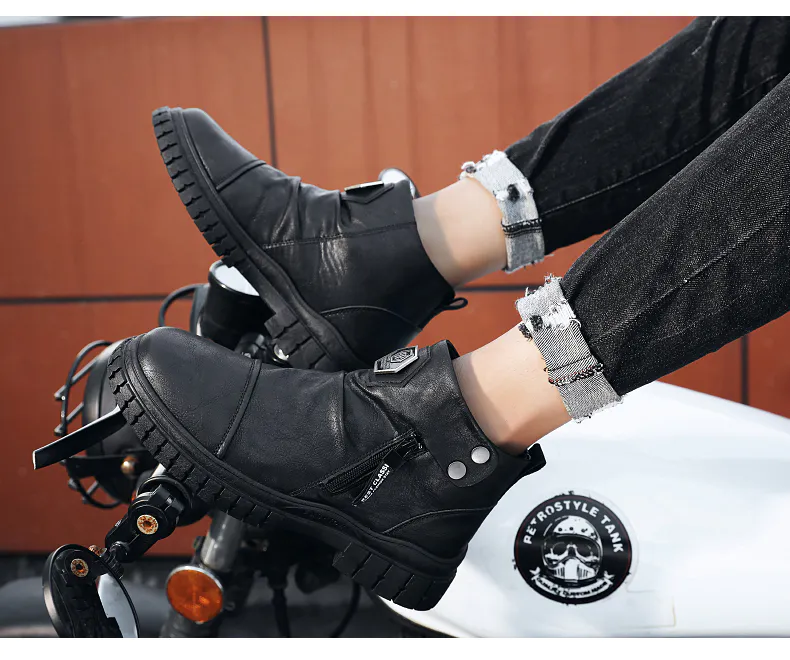 Consideration: Extraordinary wrap, fit the foot. The upper has extraordinary grinding.
Durability: Crafted with durable materials and robust stitching these boots are designed to perform even in the roughest weather conditions and demanding outdoors.
Extraordinary Special FABRIC: Lightweight material abatements the significance of the shoe. Offers a perfectly broken-in look, making it ideal for everyday wear.
Sensitive & Adaptable: Normal adaptable wrap, mind-blowing adaptability and flexibility, impact impediment, enough to protect the toes from injury.
Comfort: Our boots provide all-weather versatility, wear it in rains or on snowy stress you don't have to worry about slick rocks, muddy roads or hiking terrain.
Slip Resistant: Take confidence steps even on slippery tracks, The soles make sure you are always in control of your walk. Perfect for wearing during wet weather.
Closure Type: zipper
Extraordinary Features:
– Hard Wearing
– Cushioning
– Durable
– Sweat permeable
– Top-quality